Keeping Your Cool
19/08/2017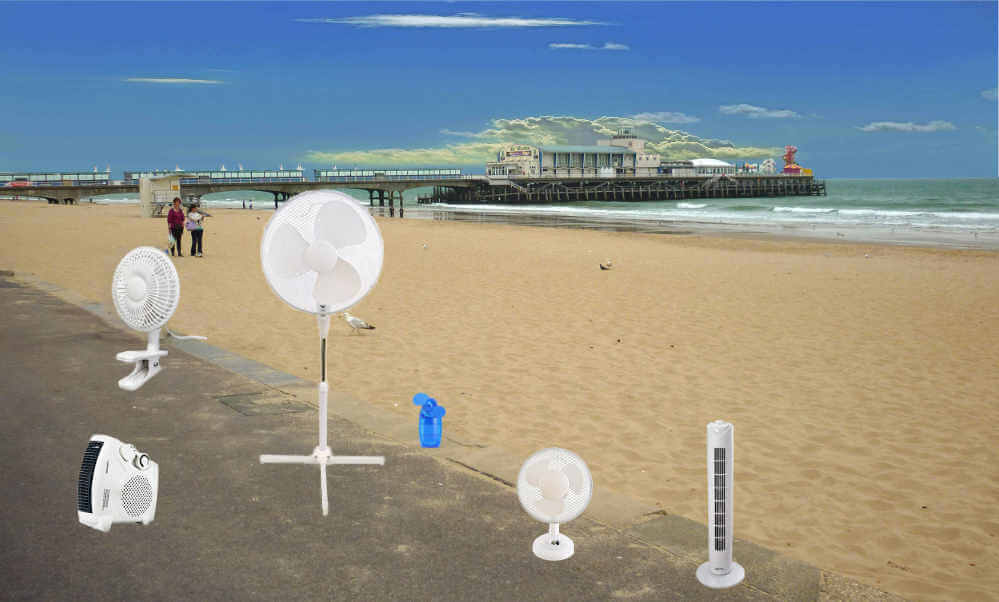 Fans are an easy and convenient way to keep cool this summer. Yes, the humble fan – you may be surprised at the innovations this trusty device has experienced. 
This article looks at the different sizes, shapes and technologies now available to help you make an informed decision. But also drop into our shop in Wey Hill, Haslemere – our friendly staff will be delighted to help you pick the fan that right for you.
Well the British summer is well under way and everyone's trying to second guess what the weather will be like – a good British past time. The Met Office are their usual reticent selves as they've been caught out in the past. But we do know we've had some beautiful warm sunny days interspersed with bouts of heavy rain and thunder storms.We're an optimistic bunch here at M&C Electrical and are expecting the hot weather to return.So, what better topic to talk about than fans.
Fans provide a quick cooling solution in a variety of situations. Most of us are familiar with them – blades circulate air throughout a space to cool, ventilate, and sometimes dry the area.
Not rocket science really!
Or so you thought ….
New technology and additional features have made fans viable cooling and comfort options for more people, and they remain a more economical choice than air conditioners for lighter cooling tasks. Before you shop for a fan or air circulator, check out the points below to find the right fan for your needs.
What type of fan do I want?
Not all fans are created equal. Most fans consist of blades, a housing unit, a motor or power source, and structures to keep it upright.
Right?
But because of the diversity of designs and functions, not all fans will fit this conventional model. Here are common design types to help guide you in buying a fan:
Handheld personal fans as the name implies are small battery operated portable devices. Our range from Status are lightweight and compact enough to take anywhere with you, and have foam blades that provide a safe way to cool yourself down. They are available in "cool" colours – blue, red, black and clear.
Desk fans tend to feature spinning blades, which circulate the air around the room – the basic model of what we all consider a fan to be. Available in a range of different sizes (typically 18cm to 30cm), they provide an instant cooling breeze when you need it. Usually positioned on desks (no surprise there) to provide personal cooling for both the home and office. The Lloytron 12 Inch Desk Fan offers a quiet 40w copper motor, 3 speed settings and 90-degree oscillation with a tilt function.
Pedestal fans have a traditional blade and housing design attached to an upright pole and work in a similar way to desk fans, using rotating blades to circulate air around the room. They are a great option for larger rooms, circulating high volumes of air to provide excellent cooling performance. Height adjustable models are also available. The Lloytron F1221WH Stay Cool Pedestal Fan is equipped with a 50w motor with 4 speed settings, 90 degrees of oscillation or static operation, vertical tilt, a mesh safety grill and adjustable height to 1.25m.
Tower fans are tall and slender where the cooling unit stretches along most of tower's height. This configuration is a real space-saving option that's ideal for cooling smaller rooms but are also perfect for quickly cooling down larger rooms and busy homes. Tower fans feature a sleek and modern upright design, and come available in a range of sizes to suit your space. The Lloytron Stay Cool Tower Fan has a quiet copper 45 w motor with 3 speed settings, 70-degree oscillation or static operation and a height of about 32".
Bladeless fans create airflow without spinning blades. These fans don't easily accumulate dust, they don't pose a risk to the fingers of children, and they require less energy to circulate a lot more air.
Dual mode fans with both heating and cooling functions in one unit have definite appeal for several reasons – primarily budget and storage. It's often cheaper to buy one multi-functional appliance instead of two single-function units, and heating or cooling one room instead of an entire house of apartment can help reduce energy bills. And you don't have to keep it stored in a cupboard for half the year. The Lloytron F2003 has 2 Heat settings and a cool blow function with a variable thermostat, an auto safety cut-off and works in a prone or upright positions.
Where am I going to put the fan?
A fan's intended location will guide your choice of fan size, type, noise, power requirements, and cooling capability.
Certain features may influence where you can put the fan. For instance, longer power cords and remote-control access allow you to place a fan in a less-accessible area, where it may have a greater cooling impact or stay out of the way. Conversely, your location will largely determine what kind of fan you can get. For example, a home with pets may require an air circulator with safe housing and/or technology to reduce excessive pet dander and hair build-up. Or if you are going to use it in your bedroom at night, a quiet fan may the most important requirement.
What features do I want?
No matter which room or what purpose you have for a fan, you'll want certain features to best fit your usage. Here's a list of some of the features to take into consideration.
Special features – there are a number of useful features to look out for. These include timers, oscillating heads, speed settings and remote controls.
Speed control –many low-cost fans have simple stepped speed controls. When the fan is operating at low speed, an 'electric brake' is applied to the motor. This wastes lots of energy, which is dissipated as heat, that can reduce the life of the motor. High efficiency portable fans use electronic speed controls that waste very little energy.
Protective cage – most fans come with a protective cage, which houses the blades. Fan blades rotate at extremely high speeds, which can be a real risk to you, your family and your pets, making this feature a real safety essential.
Tilt action – some fans come with a tilt function, which is great for directing the cooling air flow exactly where you want it.
Fan design and air noise – Careful design of the profile of the fan blades reduces noise levels considerably. Perhaps not a major consideration in a noisy environment, but definitely very important in a bedroom or office. Noise is measured in dBA one meter from the fan, while running at full speed. When comparing fans always check the noise level – 60 dBA is considered to be acceptable, but ultra-quiet fans can be as low as 43dBA.
Size and airflow – Many people buy the biggest fan available assuming it will give the highest airflow but the design of the fan and casing have a big effect on the airflow of a fan. A large inefficient fan will certainly use the most energy, but not necessarily produce the highest airflow. When selecting a fan compare airflow not size. Airflow is measured in CFM (cubic feet per minute), m3/s (cubic meters per second) or m3/hr (cubic meters per hour).
There's much more to the simple fan than you might ever have imagined. So pop into our store and talk to one of our friendly team. We have lots of advice and experience to point you in the right direction.
Cool!